I know, I know. It's been a minute. My apologies. We've been busy around here at BPC. New projects, new coaches, new kids. Yeah, Coach Funston and I have a female cycling team in the works. Right now, most can barely walk straight but they are destined to be champions, right!? I digress.
There is a point to all of this.
My season has been a weird one and I'm guessing some (many?) of you will relate.
Early this season, I focused on triathlon and had a great start to 2016. I did well in a number of races, hit some PR's, and even qualified for the Cross Triathlon World Championships. But since May I have felt like I've been working hard, and just haven't seen the results I was hoping for after switching my focus back to cycling.
Been there before? Working hard but not getting results?
Well as a coach, I normally start to dig into the numbers, the training, and think rationally about why I am not performing as expected. This season was different. I immediately started to wonder why my equipment was failing me. Every bike I picked up was lighter than mine. My helmet was the wrong shape. My bike fit was off.  I started looking into swapping out components for lighter ones. Saving 20 grams here, and 40 grams there. It all had to add up right?
Well before I walked into my local bike shop with a wad of cash and started thinking about how to "ask forgiveness" from my wife, I smacked myself back down to earth as I wrapped my hands around a Taco Bell cheesy bean and rice burrito (fresco style of course).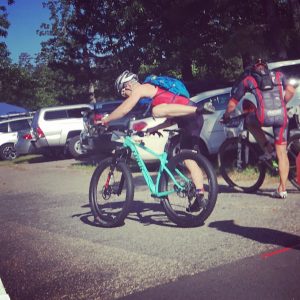 As I was mowing down my burrito, I started thinking about all the folks I know with similar or "lesser" set ups who are uber competitive. My buddy John started racing on a steel Centurion with down tube shifters! What was I complaining about? Then I remembered in May I raced the USAT Off Road Triathlon National Championships on a 27 pound semi-fat tire mountain bike, against folks with 20-22 pound carbon hardtails, punctured a sidewall halfway into the race, and still had one of the top bike times. Shut up brain (in a Jensie accent)!
So with a little math, research, and the fantastic tools that BestBikeSplit.com offers, I found the weight difference has to be pretty significant, and so does the average grade of the hills, to worry about a measly few grams. A 4 lb difference on a rolling course only saves about 8 seconds over 40k. Whereas 4 lb on a 7 mile climb like the Gib in Santa Barbara, CA can cost you 40 seconds. Honestly that doesn't even seem like that much considering the Gib averages 8%. It's a doozy. Plus, I know I had raced on this set up for the past 2 years and done well on several occasions.
So what changed!?
LIFE.
(This is that part where I'm sure 98% of you can relate)
So I got my brain straight and started digging. Here are all the things that I found that seemingly lead to a lack luster season. In my coaching life, I see these things all the time and know how to address them. But even coaches need a nudge from time to time. We get paid to make YOU faster, not ourselves. But maybe you have experienced these, or maybe one or more will be a wake up call.
Tell me you don't want to spend time with these two!?

Did I mention I had kids? And twins nonetheless. So my weekly training has been less due to the cuteness factor and building my dad brand. But I've trained on lower hours before. The issue becomes with less time, more time needs to be spent on your limiters. I spent the first 4 months of 2016 working on steady state efforts for triathlon. Then I went straight into bike racing and got in the habit of just doing group rides and not actually focusing on what I am personally weakest at. For me, that is 60-90 second power. And what do you know, the data said that's where my races went down hill. Shame on me.

Did I mention I was eating Taco Bell? And I have kids!? I can use them as an excuse to eat poorly now right? Nice try. As life got busier, I still focused on work, family, and training, but just not as much on my nutrition. I've been racing all season about 5 lbs heavier than the last 2 years. Junk in, junk out. But the good news is, all it takes is to get back on the healthy eating train, a salad a day, and those 5 pounds of slowmo will be outta here in no time. That's way easier than spending tons of money to save half a pound. I'll take my 40 seconds back please.

Always keep your head on a swivel

My consistency fell off after May. Not really by choice per se, but I had a hard time putting 3 good weeks together. We bought a new house (holy crap that's stressful for months after you actually close), coaching commitments, family vacations, and then I wrecked on a training ride (sneaky pothole). Bam, bam, bam. Getting in 2 strong weeks and then taking a very low volume week (or 2) doesn't put enough load on the body to create strong adaptions to the training. So I really can't be upset with where I am at right this second. You can fill in the blanks with whatever your life changing events have been. Once the consistency falls off, it's really hard to improve.
Good thing is, I know how to remedy all of these things, minus the kids part. A little focus on limiters, clean eating, and the all important consistency will have these legs pumping out gobs of watts just in time for the St. Jude 24 Hour RIDE.
The point here is to accept the ebbs and flows of training for increased performance, but don't be so quick to blame the equipment, or anyone else but yourself for that matter. Don't freak out and give up on your goals. Take a hard look at what upgrades you can make within yourself and your own training before you drop your kids college fund on a feather light rocket ship. Stop worrying about why you are not where you want to be, and focus on how to get there, whenever that may be. Enjoy the journey folks!
Let's Ride.
Photo Cred: Jason Terrell, Commercial Appeal
Leave Us A Comment!
comments