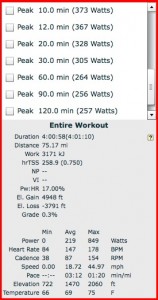 If you don't have a full time coach, you may struggle to analyze and understand all the numbers and performance markers. However,  interpreting training and racing data is a key part to any successful training plan. You can have all the data in the world, but if you don't know how to use it, you will struggle to improve. At the same time, you may be working too hard, or not hard enough, and not know it. This can obviously lead to detraining or the all too common overtraining syndrome.
BPC has started the PDA (Performance Data Analysis) service to give athletes insight into their performances in both training and racing, so that they can better utilize that data, make adjustments to their training program, and continuously improve their overall performance.
How does the PDA service work?
The concept is pretty simple. Just email your device files (Garmin, Timex, etc.) along with any questions, comments, or race reports to PDA@buildpeakcompete.com. Once we receive the files, you will receive an online invoice based on the number of files we will be analyzing, and the types of files. Once payment is confirmed, we will go through each file looking at specific performance markers along with any other limiters we may notice along the way. After the data analysis takes place, you will receive a report via email answering your questions, addressing any performance limiters, and giving suggestions on how to improve the weak areas in your training, racing, and fitness.
Why Take Advantage of Performance Data Analysis?
– Gain insight into your training/racing performances so you can train more efficiently
– Know exactly what zones you should be training in to improve on different energy systems
– Evaluate progress over time
– Expose your limiters and ways to improve them
What does the Performance Data Analysis Cost?
Bike/Run LT or FTP Test – includes configuring new power or heart rate zones – $30
Time Trial – $30
Run Workout or Race – $30
Road Race, Circuit Race, or Criterium – $50
Triathlon (Swim, Bike, and Run) – $50
Add Skype or Conference Call – Billed at $75/hr, min $50.
*Data analysis is included in all monthly coaching packages