A Weekend to Remember (and Repeat) at the Tennessee Paracycling Open
|
What a great weekend of racing at the Tennessee Paracycling Open​.
How did this come about?
Well, my buddy (Paracycling supporter extraordinare and race director) Greg Miller​ sent me a Facebook message asking if I wanted to pilot a tandem for a BVI (Blind and Visually Impaired) athlete.
Having piloted before at last years Tennessee State TT, it was a no brainer. After asking my (sweet and understanding!) wife if she was cool with me taking off for the weekend, I gave Greg the thumbs up and the wheels (pun intended) were set in motion.
Within a few hours, I was on a three-way Facebook message with Greg and my new racing partner, Clark Rachfal​. After working some Google magic, I found out he is the umpteen-time USA National Champ and top Paracycling Stoker in the nation. You can check out his Team USA Bio here.
Wowzer…this could have been like a giving a 16 year old the keys to a F1 Racecar. I mean, I'd only ever ridden a tandem two times before. Needless to say, I knew I had to bring my A-game.
Friday afternoon after getting my work done and saying my goodbye's, I hopped in the Marx-Bensdorf and BPC Cycling​ team car and rolled east toward Knoxville ready for a hard weekend of racing. I was also excited about the athletes I would meet and friendships I would (hopefully) make.
Let's say the weekend didn't disappoint.
First – it was hard.
Yeah, I know what you're thinking, a 20k TT is supposed to be hard. But tandems bring a new level of hurt.
Why you ask?
Well for one, you don't want to let your teammate down. This thought forces you to dig that little bit deeper, and once you're there, you look to find that little bit extra.
The second aspect is the timing involved. The pilot (that was me) and the stoker (Clark) have to pedal in perfect harmony. If you are pedaling at different rates of speed from each other, then power is being wasted trying to overcome each other. Not good.
So not only are you looking to maximize your own efficiency, but you are looking to do it while syncing up effort and timing perfectly with your teammate.
I'll be honest, it isn't easy and takes a lot of time to master. But who needs practice?? We hopped on the tandem for the TT at 7:15 am, rode the 12 mile course once, made some last minute adjustments (and took the photo below – yeah, I'm sporting the Stars and Stripes because I'm riding with the USA National Champ…how cool is that???) and headed to the start line. Snot and suffering ensued and when the dust settled we won by 20 seconds over a strong team – R5-Para​. You should go check out their Facebook Page: R5-Para and give them a Like.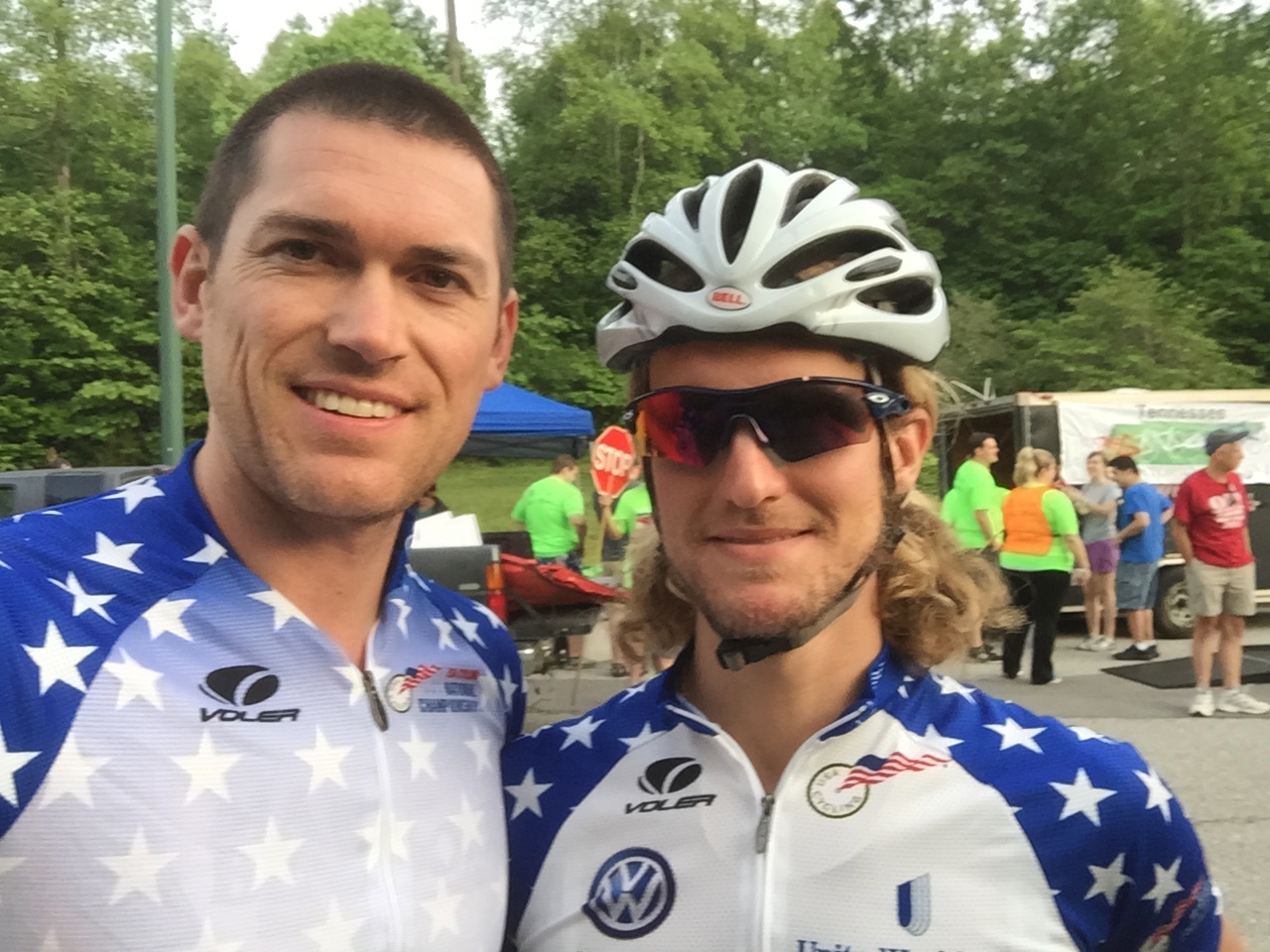 After cooling down (and working on some out of the saddle riding…also not easy…haha), the real beauty of what this sport is came through….
Everyone – from a variety of backgrounds, born in a variety of countries, birthed in a variety of decades, with a variety of abilities and disabilities – sat together laughing, talking, and sharing stories.
You hear the stories and you see the people, and you can't help but really be inspired and honored to be a part of it.
Guys like Damien Lopez – a double amputee that resulted from a high voltage electrocution.
Aaron Trent​, an infant stroke survivor and now Cat 2 badass (He's in the middle below after winning the RR)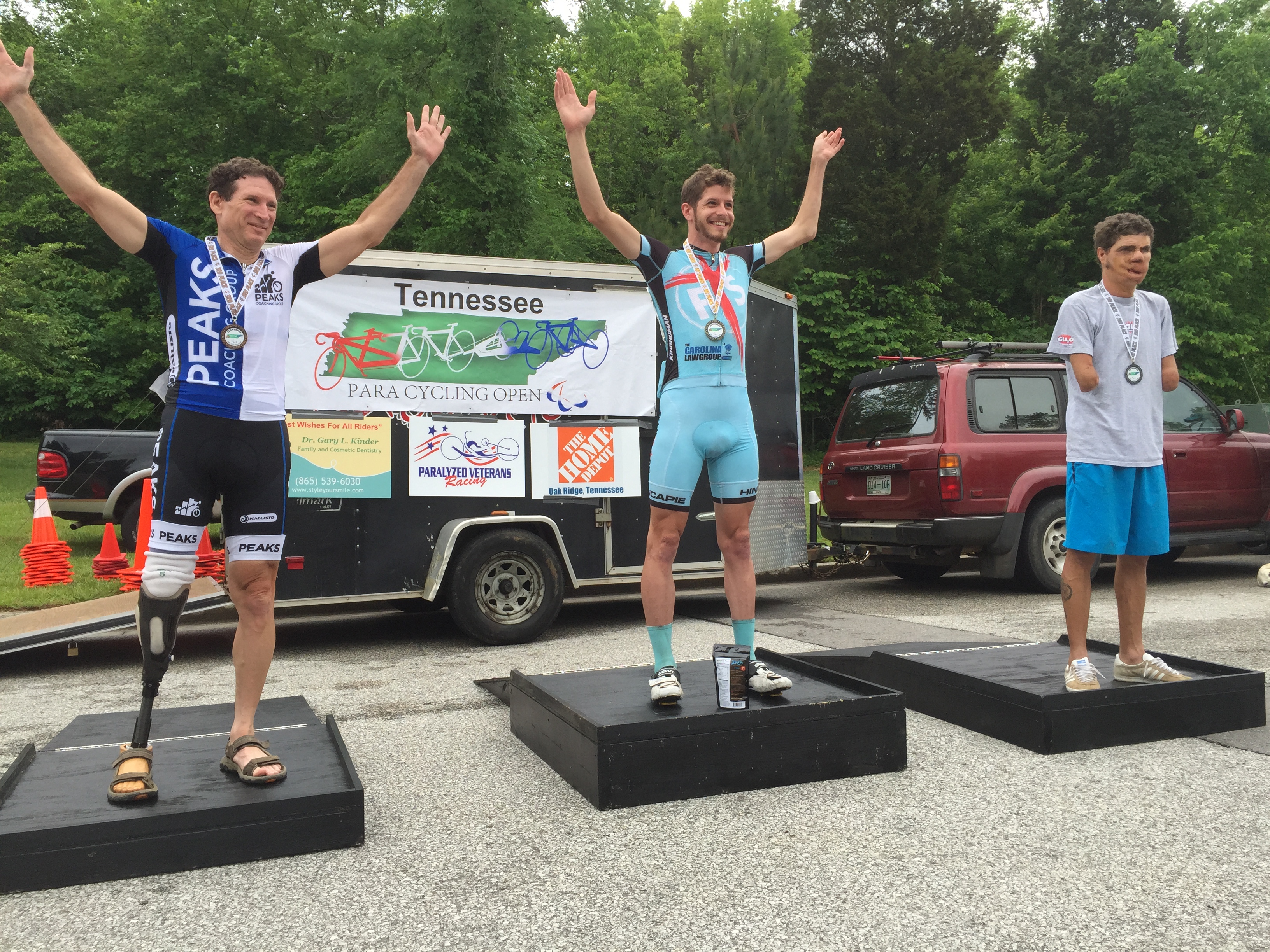 Fellow Stoker, Chester Triplett (he's on the far left below)​ – who is slowly losing all his vision due to Stargardts disease…which is now a cause he's racing to bring money and attention to.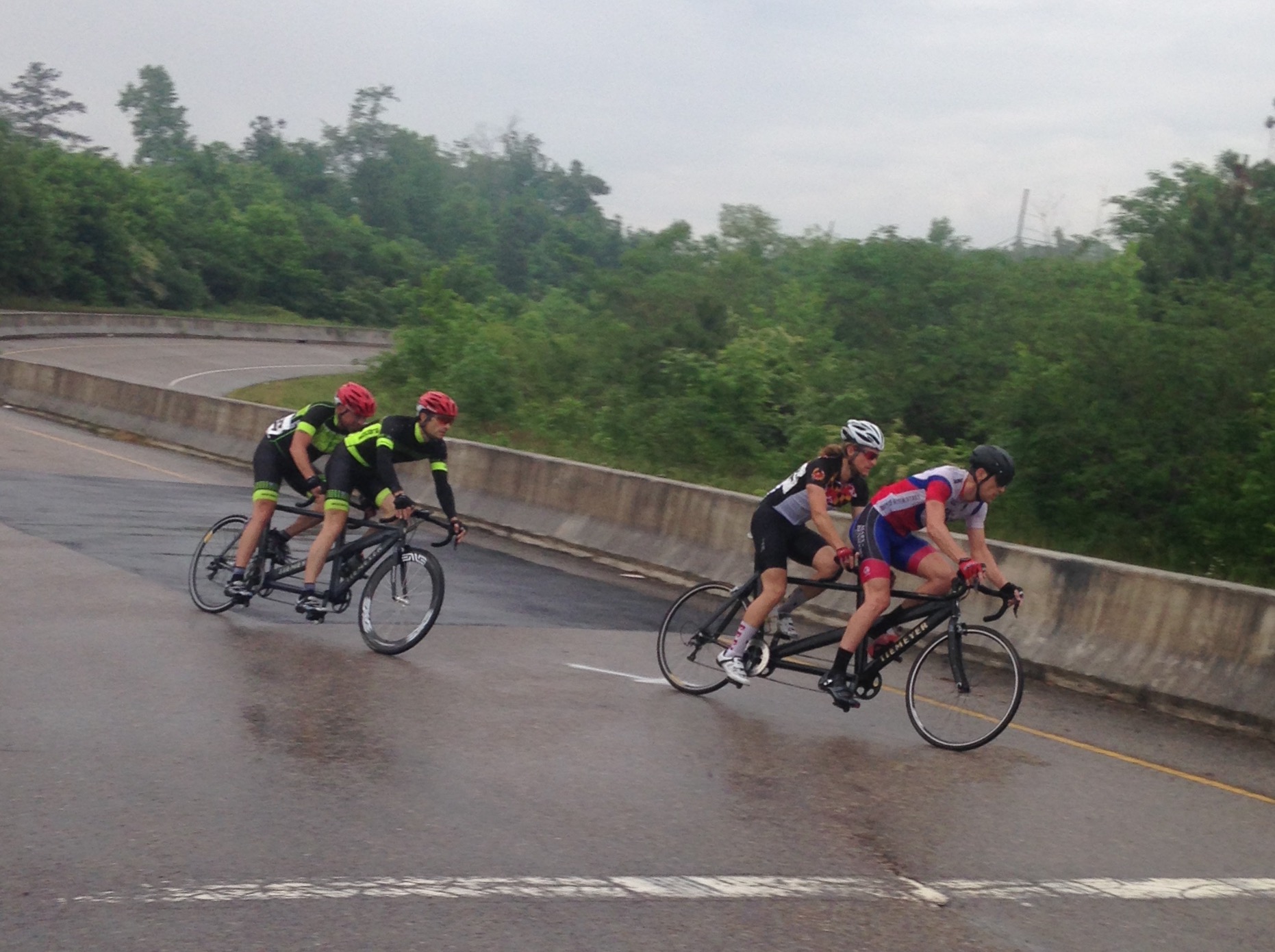 My stoker, Clark, who goes to bed each night knowing that his very limited eyesight will be even more limited when he wakes up the next morning.
Yeah, these stories can sound depressing… until you meet the people behind them. They refuse to let the conditions they have been served impact the people they are and their dreams of who they want to become.
They don't let their "disabilities" wash away or inhibit their abilities. They refuse to be defined by that. They refuse to be held back by that.
It's funny, there are some people who go out and try to be inspirational people. Then there are others who are inspirational just by being who they are, doing what they do, and overcoming obstacles that most "able bodied" people would feel is insurmountable. This race was filled with the latter of the two. Truly inspiring.
Once the results were tabulated, we found out that we were 1st in our BVI category with a time of 25:01…that would be a 50:02 40K TT…not too shabby.
Saturday afternoon was spent recovering, eating Thai, eating Italian, celebrating Greg and Karen's daughter's graduation (which was happening the next day – another testament to the sacrifices the whole Miller family makes to support Paracycling), and getting ready for Sunday's road race.
Oh, I forgot to mention that the Miller's were also playing host to me, Clark, and one other BVI stoker, Davien Robinson. Davian had me laughing all weekend long…he's a funny dude who's in college studying to become a phys-ed teacher. (Second one over from the left nabbing a 3rd place in the RR)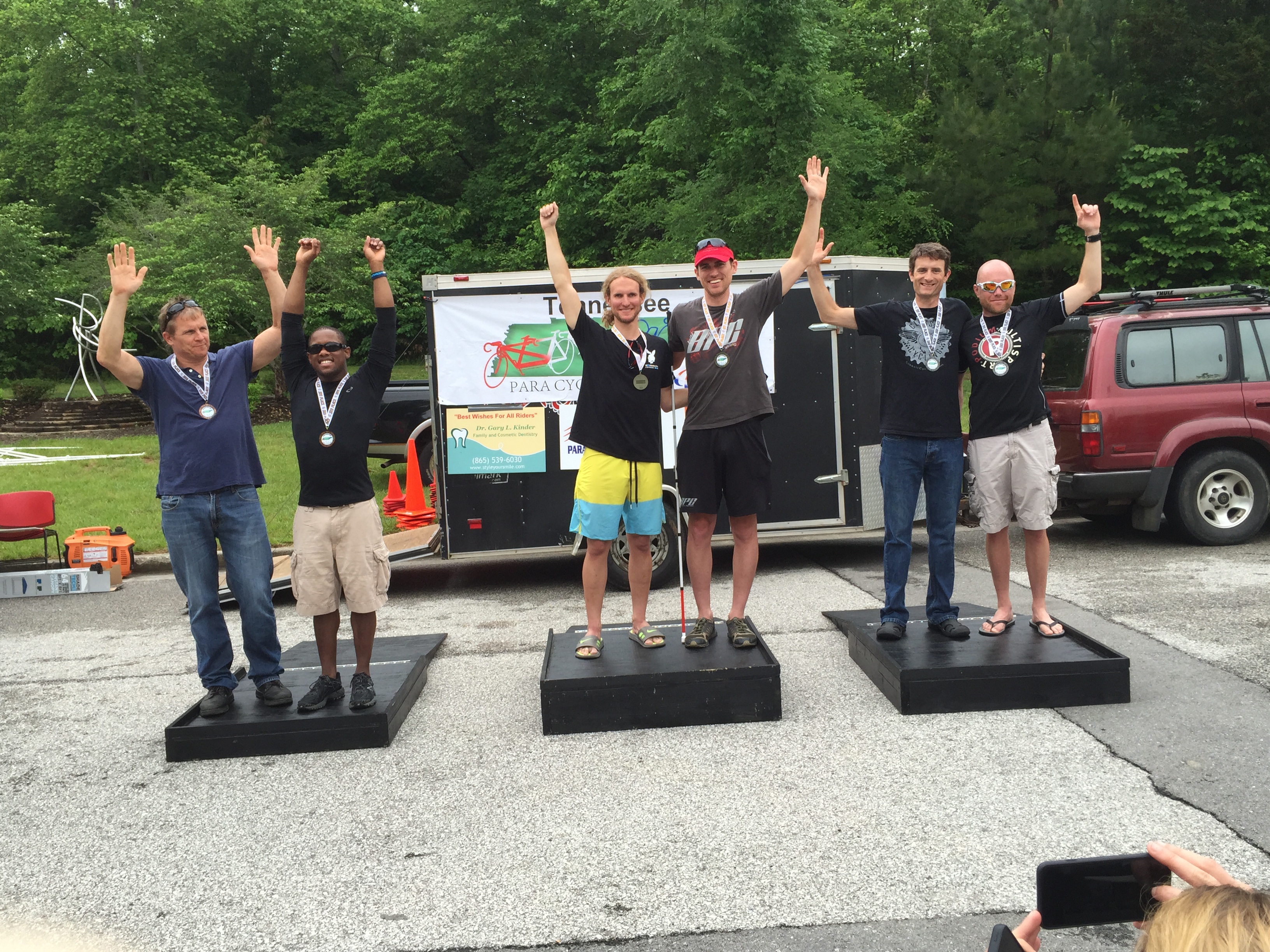 Sunday morning we were greeted with rain, but that was not going to put a damper on what was set to be a fast morning of racing.
At the start line I met two female badasses – Amy Dixon​ and Lindsey Cook​. Unfortunately a flat would derail their race, but not their spirits…
I'll spare you all the details, but it went like this:
– A few attacks on lap one left us and the tandem of Chester and Reuben Howden​ together at the front.
– We alternated getting splashed in the face by the wheel spray, and spraying the other team in the face with ours.
– We attacked on the final lap during the hills and soloed in for the win. (Although chain skip limited the ability for the other tandem to chase us down.)
Post race was more chatting, sharing of stories, and Aaron Trent was even nice enough to share a fine Sweetwater IPA with myself and Clark. We chatted about upcoming races, the great climbing in Greenville where he's from, and I even got the offer of a couch to sleep on if I ever wanting to go ride those sweet roads. Cool stuff.
After the awards were passed around, I shot this video of Greg giving a thank you speech. He was also surprised with quite an honor from the Paralyzed Veterans Racing team.
If you ever have the chance to support Paracycling, either as a volunteer, a racer, or a sponsor, I strongly encourage you to do so.
You will not regret a second of it.
Here's a few more pics from the weekend: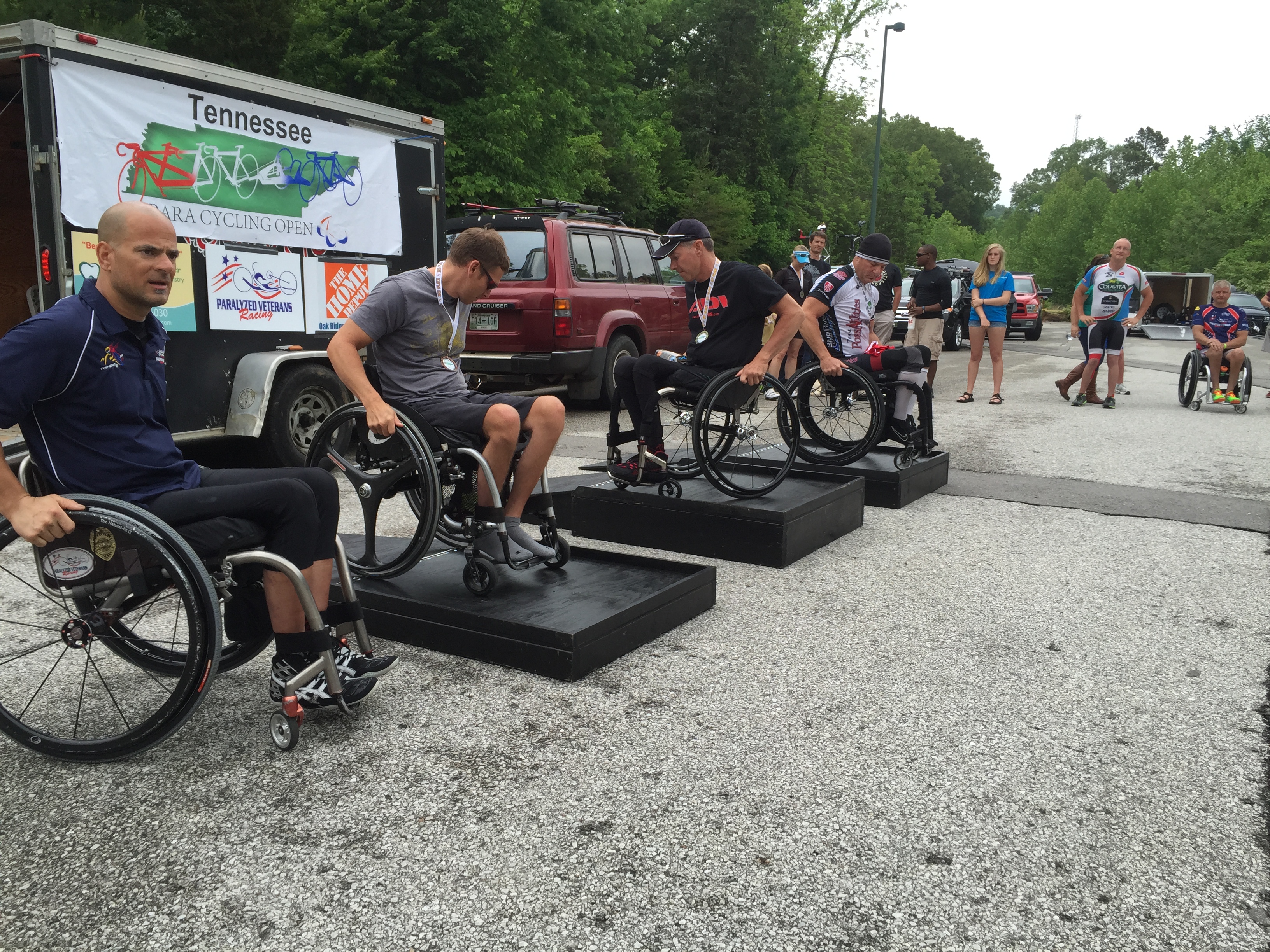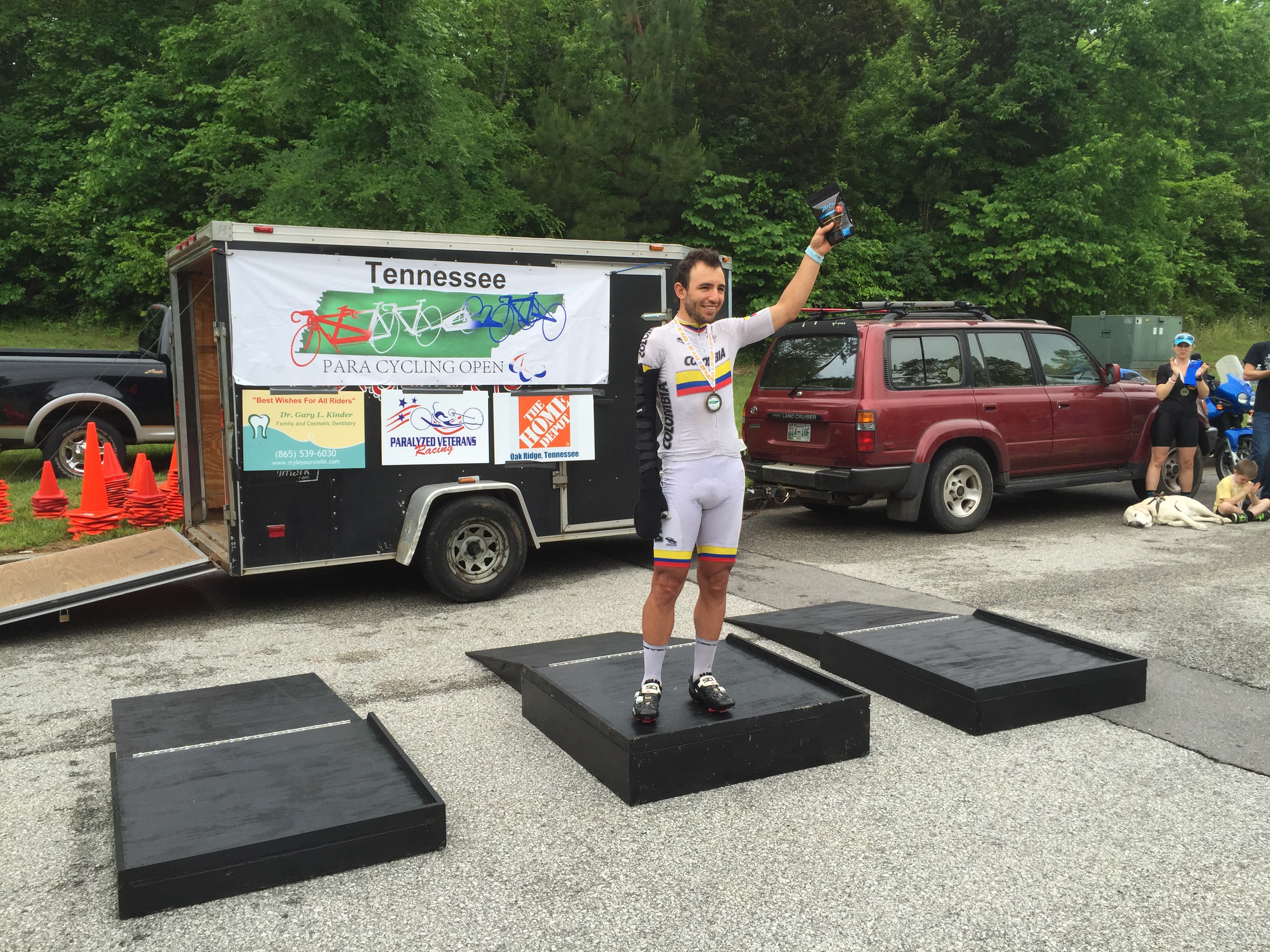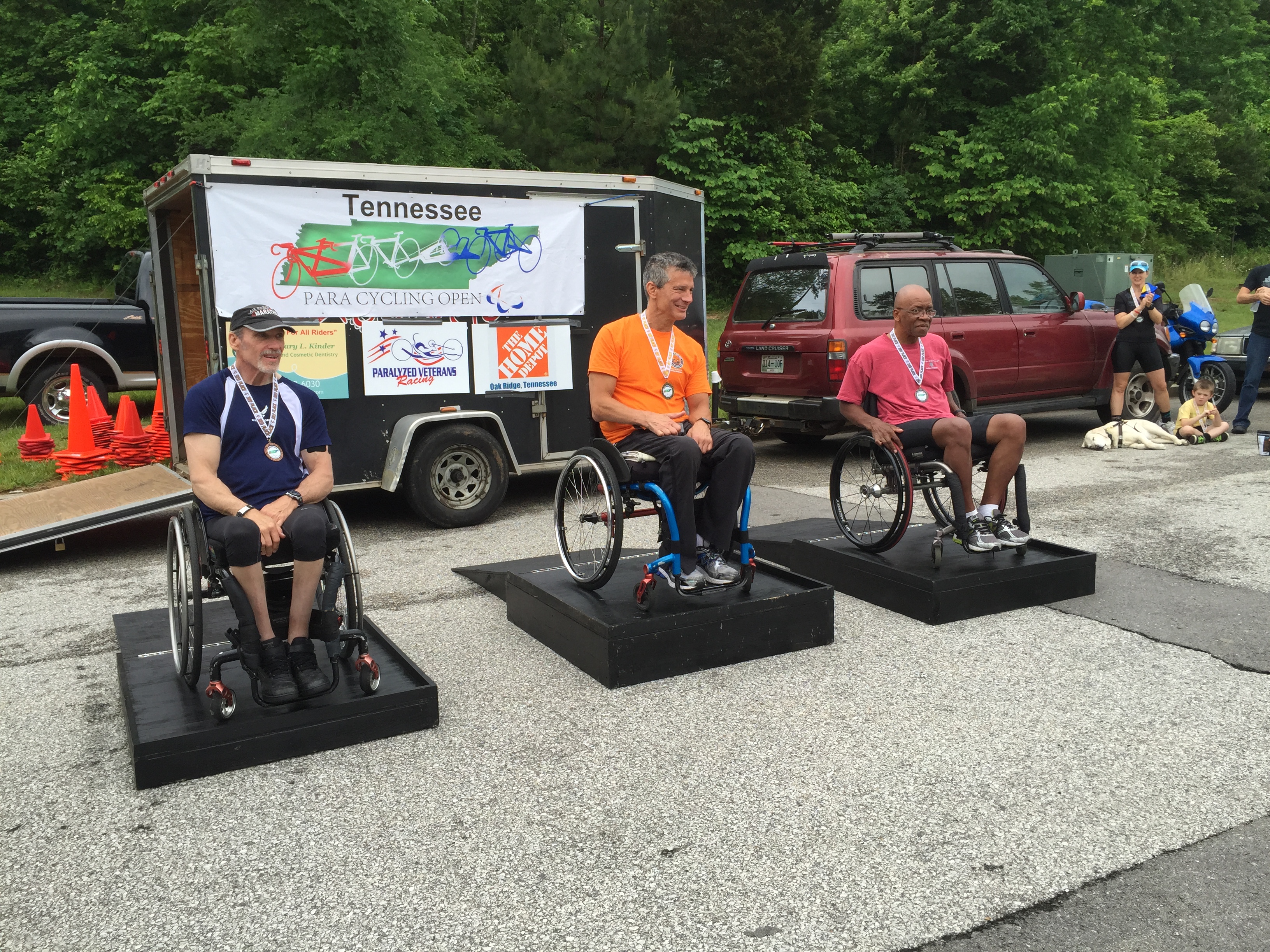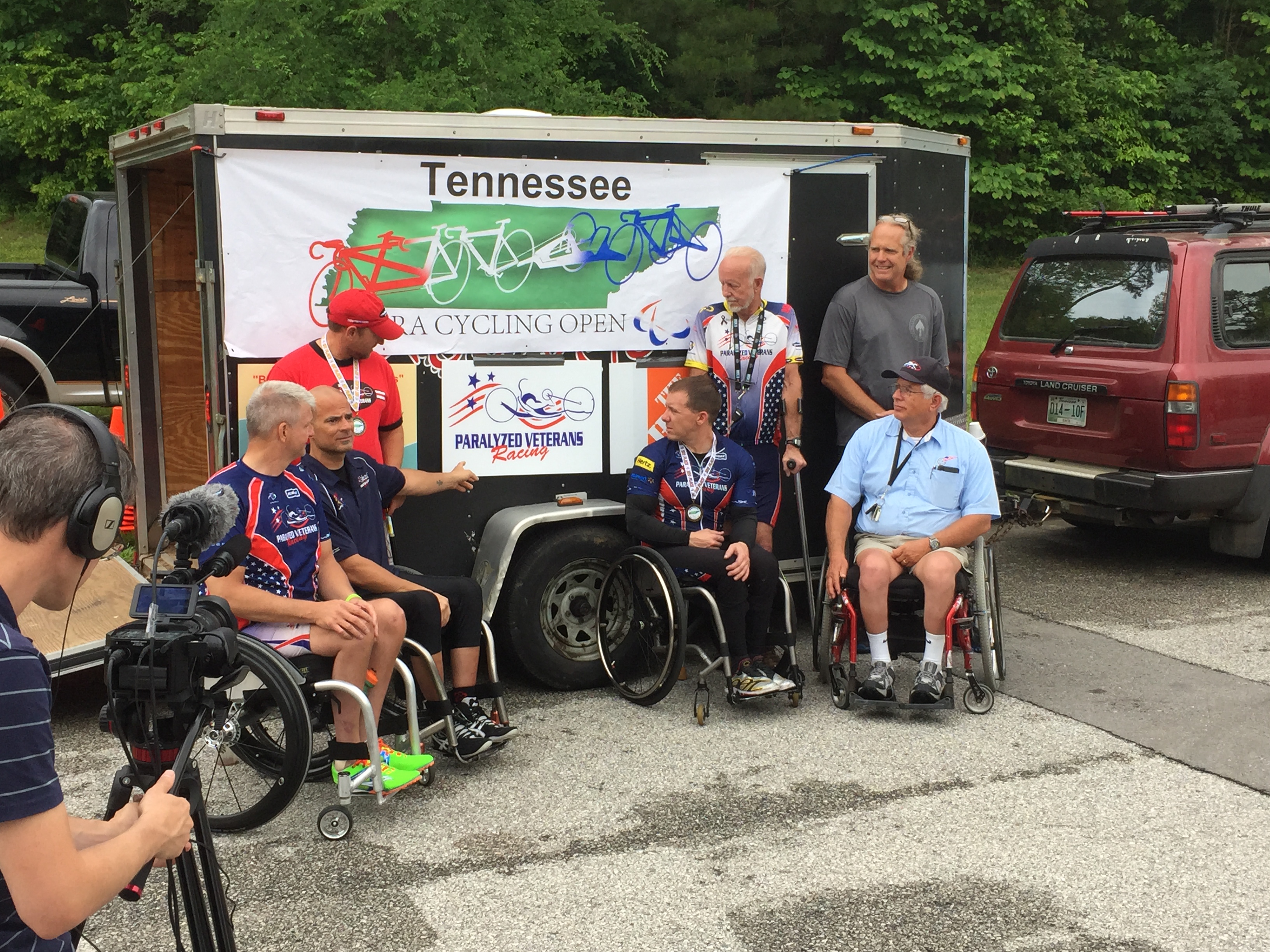 Leave Us A Comment!
comments