Rescheduled to March 10th, 2018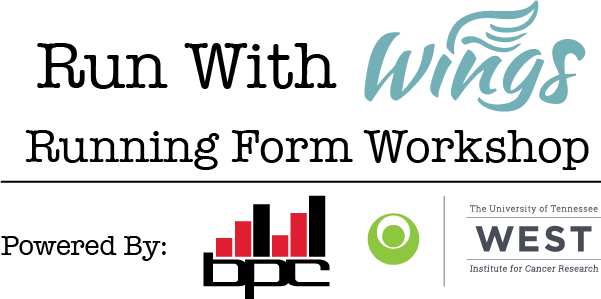 Are you ready to run like the wind blows with less risk of developing those nagging run related injuries? This workshop will give you the skills, drills, and tools to make that happen!
We have partnered with The University of Tennessee West Institute for Cancer Research to give back to the community we love by offering a FREE running mechanics clinic March 10th, at 8:30 am. The clinic is FREE but we are raising money for a really great cause – WINGS Supportive Care Division of The UT/West Institute.
Give as much or as little as you are able. 100% of the proceeds will go to The UT/West Institute. If you can't make a donation, you won't be turned away.
To Register: Just put in your name and email address below to reserve your spot. We'll then send you a link to donate if you choose to do so.
We value your privacy and would never spam you
Clinic Details
Location:  Parking lot of The West Cancer Center – 7945 Wolf River Boulevard in Germantown.
Start Time: We will start promptly at 8:30 am.
What You Will Be Doing: During the clinic we will be teaching you how to run more efficiently using a tested and proven set of drills and progressions. We will start with the foundational movements and progress from there. Regardless of your fitness and experience level, you will get something out of this clinic.
Normally a group session like this costs around $80, so don't miss this opportunity to learn from the pros at BPC while making a positive impact on adult cancer patients in the Mid-South.
For the most up to date information on the clinic, please follow our Facebook Event Page and make sure you REGISTER up above to receive updates leading up to the clinic.
We will be taking donations on site, but if you would like to make a donation ahead of time, we can present UT/West Institute with a check for the proceeds on the day of the clinic. And, we will have more time to help YOU run like the wind!
Can't attend but still want to donate? Just click the link below.
* Kids under the age of 14 need an adult present. All participants must sign a waiver, or have a waiver signed by a parent or guardian. Sorry, no exceptions.