Oxford Run for Hope Half Marathon Course Preview
|
The Run for Hope Half Marathon is a rolling course through Oxford, MS with 538 feet of total elevation gain.  Don't worry too much about the hills. Most of them are rolling and actually won't slow you down.
The course has a blazing fast start which drops 92 feet over .4 miles. Be careful not to overdo it here since you will likely start off faster than your normal pace. Over the next 1.5 miles it will gain 125 feet with most of that coming early on with 2 short hills.  From about 1 to 2 miles the hills are rolling and will allow you to get into a good groove.  It levels out for the next 1.2 miles and then drops 164' from the 5k to the 5 mile mark.  This will take you past the airport and lead you onto campus. During this downhill section, focus on leaning forward and letting the hill do the work. Avoid landing out in front of your body as much as possible, as this can put a lot of extra impact on the quads.
About 5.75 miles in there is a longer sustained climb that will barely slow you down.  Don't hammer this climb but use it to get you ready for a few larger hills in the coming miles.  This is not the point in the race to hammer it. Focus on leaning into the hill and pushing backwards to generate as much force up the hill as possible. This will help get the glutes activating for the longer hills to come.
Once on campus, you will run a few slow and easy rollers until you reach Rebel Drive at 7.25 miles.  These hills are ones that will get you in a good groove and you'll gain back any time you lose going up them, when going back down.  Rebel Drive is a 200 meter long hill which gains a quick 36 feet then slightly levels out (but won't let you rest).  Take quick and short steps to keep your tempo up while running the hill and remember that you go back down nearly as soon as you crest the hill.  This is 1 of 2 difficult sections of the course. Don't let it mess with your mental game. Focus on breathing and technique, and you will be fine.
Once you crest the hill on Rebel Drive, you will get to a short and easier hill up to The Grove.  This is a fast mile despite there being uphill.  Use your momentum to carry you up to the The Grove but don't forget to allow yourself to recover.  This is still early in the race (8 miles) and you have another hill to run in a few miles.
From 8 to 9.75 miles you are either running on a flat road or downhill.  You will run from The Grove, around The Circle, then a long downhill past the baseball field towards highway 6.  Here you will turn left onto the most challenging part of the course.  You will turn into a .4 mile long hill that gains 110 feet, most of which comes early but continues to climb up to Rowan Oak.  Stay strong on this hill and you can pass or drop a lot of people. Focus on pushing back down hill! Don't run all out as you still have 2 miles to run once you get to the top. But if you allow yourself to slow down too much you can easily lose a lot of time here.
Once you are up this hill, you will be on flat roads for 1.65 miles giving you ample time to recover from the hill and settle back in to put out whats left in the tank all the way to the finish.  At the end of this section you will drop 90 feet over .75 miles leading you into the final finishing hill.
Since the start and finish lines are the same, you will have to go uphill for the last .25 miles.  Use your momentum from the last down hill and your good uphill running technique to blast up the final hill to the finish line! Breathe, push back on that hill, and throw your arms up victorious!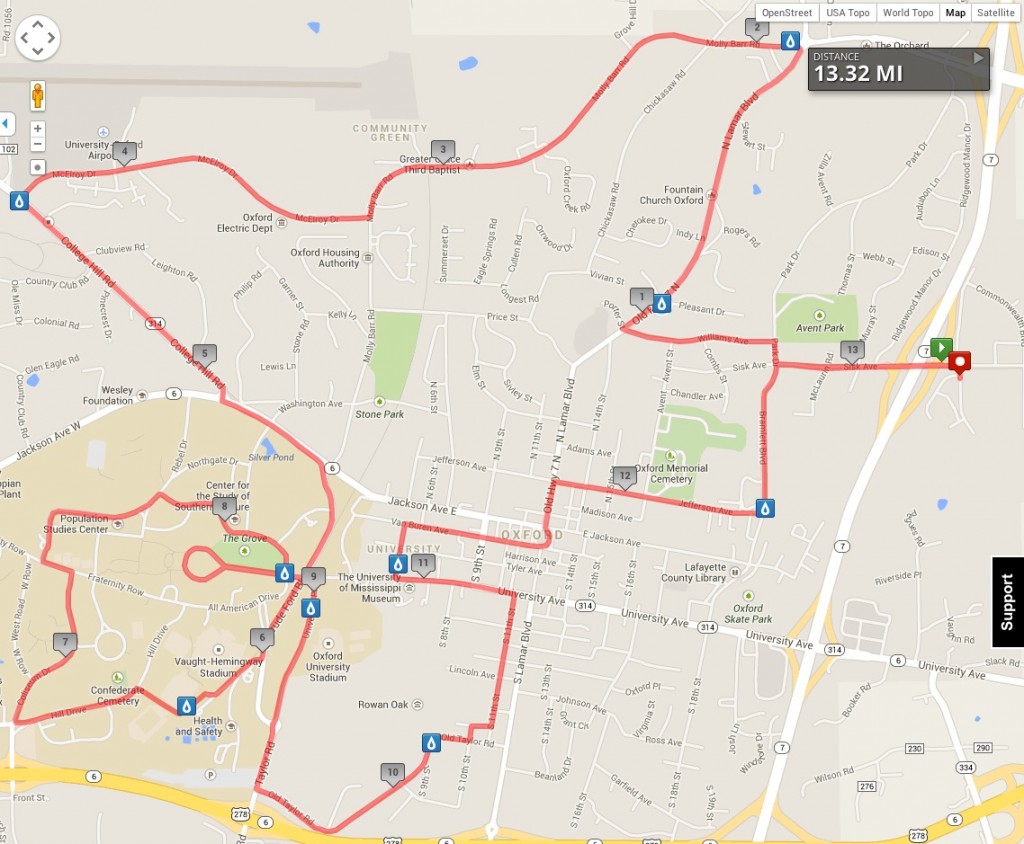 Trust Your Training!
Are you racing? Let us know how it goes!
If you want to find out more about how BPC can help you reach your full potential, please don't hesitate to contact us!
Leave Us A Comment!
comments