On the Wheel of a Pro – Race Report and Power Stats from Rockabilly
|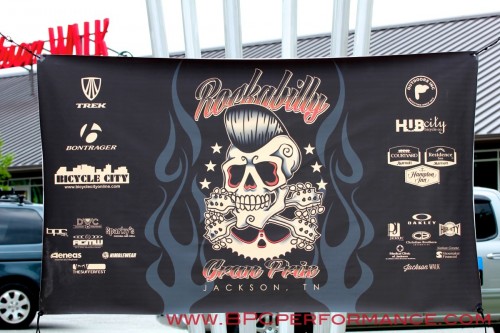 Moral of this race weekend: A split second decision can be the difference between being on the podium and watching a breakaway ride away from you.
Last weekend was the first annual Rockabilly Gran Prix over in Jackson, TN. Despite the weather being un-agreeable on Saturday during the road race, the clouds broke over night and set the stage for some great racing.
The Pro/1/2 field was a stacked one, with plenty of firepower coming from around the southeast to participate in this TBRA points race. None stronger than the Nathan Brown coming straight off his 3rd Place finish at the USA Pro Time Trial, finishing just 41 seconds behind the new USA Professional Time Trial Champion, Tom Zirbel.
For those unfamiliar with Nathan, he is a great 21 year old from Covington, TN, just a few miles up the road from Memphis. Nathan, and his younger brother Jonny (who is a beast as well), have been racing locally for years, and with bigger and better races on the horizon, this may have been the last local race that we'll see both of them racing together. Nathan will likely be racing primarily at the big stage and single day races in the US and Europe next season. He is a great guy and we wish him the best of luck!
Alright, on to the race, which as you will see from the pictures, had one sweet pace car.
With Nathan and his brother Jonny both in this race, our team figured that Jonny was the person to mark. Normal strategy would be to follow Nathan, but we knew he was likely strong enough to drop almost everyone on our team if that was his goal. We were also banking on the fact that he may be looking to not only secure his 1st overall in the Omnium and take home this sweet jersey below, but also that he was going to do his best to get his brother Jonny off the front as well. Follow Jonny and indirectly we felt we'd be putting ourselves in a good place to end up with Nate.
After a more moderate first lap, things quickly were strung out. With racers launching off the front and Nathan and others setting a hot tempo on the front.
Power data reveals the following for the first 8 minutes:
Time: 8 minutes
Average power: 349w
Normalized power: 390w
Average Speed: 28.2 mph.
The pace finally slowed and the pack began to spread across the road. I had two choices to make in a matter of a second or two:
1. Hit the brakes, recovery, and enjoy this momentary lull in the pace
2. Hit the gas and take advantage of this slow down to get a gap and see who, if anyone, chases.
My split second decision was to hit the gas and see what sort of reaction it would cause and use it as a test to see how tired the field was after that fast start to the race. If nobody chased it would tell me that either they were tired or they did not view me as a threat. If they did chase then either they were not tired from those harder, faster, laps, or they possibly did view me as a threat. Either way I would have a new piece of race information that I could possibly use later in the race.
Quick surge – 10 seconds at 806w (which was actually 360w lower than my best 10 second number that day), quick glance, and I saw the pack wasn't reacting. Having already raced the Elite Master's 30+ race just a few hours earlier, I knew I didn't want to go all out with this move. Instead, the plan was to settle in and see who, if anyone, would come across. I did not have to wait long – just a few seconds after opening a gap, Nathan Brown came flying by. Turns out when I glanced I hadn't seen him already following.
Knowing that he was a HIGHLY marked man, and that he was a stronger rider than myself, my goal was to hang onto the wheel and stay there as long as possible. Staying ahead of the group would mean that our team would have no duty to chase, whereas all the other teams were going to immediately have to react and enter into chase mode. This would put our strong sprinters in a good position if it happened to come down to a field sprint.
On the straight section through the start finish line, a quick glance back showed that Brian Toone (Friends of the Great Smokies) and a very strong Cat 1, was in chase mode solo only 4-5 seconds back. We were rolling, so I knew Brian was going to have to put in a big dig to get up to us. One lap later and he was still chasing, but the gap had opened just slightly. Another lap, same story. Brian still chasing, but by this time the gap to the pack was pushing out to the 15-20 second range. Brian eventually ended his chase and reintegrated into the group on the following lap.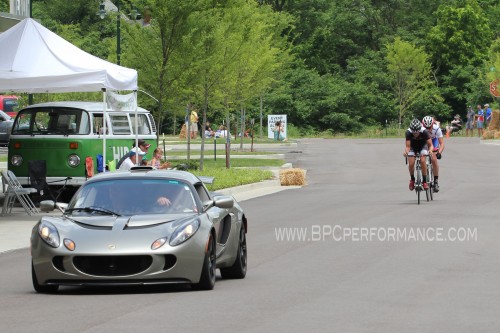 A look at the data of the four laps starting at the time the gap was established shows the following. Something to consider – this was while DRAFTING behind Nathan. Most estimates are around 20% or more savings by being in the draft over the person in the lead getting hit with all the wind. He must have had some pretty crazy numbers during this time period:
Time: 5:53
Avg Speed: 28.0 mph
Avg Power: 358
Normalized Power (NP): 367
Very interesting to note how close the NP and Avg Power numbers are during this time frame compared to the first 8 minutes of the race. What this indicates is a much more steady, consistent power output during this time of establishing of the break vs the first 8 minutes where the pace and effort was very inconsistent and contained a bunch of surging. The file essentially is starting to resemble that of a time trial much more than that of a criterium.
The next 33:25 consisted of a whole lot of drafting by myself, only taking one pull of 3/4's of a lap during this time frame. Normalized power was 307w and avg power just under 300w. Average speed came in at 27 mph even.
We were getting time splits from teammates and family on the side of the road – the gap seemed to hover at 20s for a few laps, then jumped 10 or 15 seconds where it would stay for another few. This repeated until finally the pack became visible and that is always a great feeling! We eventually ended up lapping the field with around 7 laps to go, and my new goal became to make sure I avoided any wreck or mechanical that would cause me to fall out of the pack.
The final lap, with second place secured and having made a deal with Nathan not to sprint due to the fact that he was the driving force of the break, I dropped off the back and rolled in out of the mix for 2nd. Nathan went to the front those last 6 laps and dropped the hammer once again – eventually launching his brother Jonny into 4th place in the race, and 2nd overall in the omnium.
Total stats for the breakaway:
Avg Speed: 27.2 mph
Avg Power: 308w
Normalized Power: 322w
Avg Cadence: 103 rpm
Total stats for the entire race:
Avg Speed: 27.2 mph
Average Power: 306w
Normalized Power: 330w
Avg Cadence: 101 rpm
Placing: 2nd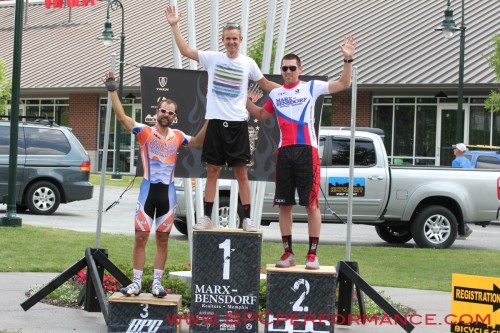 Looking back on this race, my podium finish came as a result of a decision I made over the course of a second or two. Had I hit the brakes who knows what the rest of the race would have had in store. Would the race have resulted in a breakaway? Would myself or my teammates have been in it? Would our best team result have been the same or better?
Looking at the numbers from that decision shows that it wasn't a massive attack that I put down that opened up a gap. In fact, 806w is something that plenty of Cat 4 and 5 riders can hit. Instead, it was a well timed move that took advantage of the pack slowing. It also took advantage of the course, since accelerating on that small uphill section is a lot harder than just maintaining speed. And it also took advantage of the fact that there was a corner that I knew I was going to carry more speed into than the pack, along with a downhill into a hard right corner that would prevent anyone from chasing. This essentially meant that this short surge timed correctly meant that anyone who didn't react immediately was going to have a hard time chasing for a good 15-20 seconds.
Bike racing often comes down to the decisions we are forced to make over the course of a few seconds. Sometimes we look back on our decisions and kick ourselves. Other times we make the right decision and reap the rewards because of it. Think back to some of your own races and I am sure in almost every race you were forced to decided to make a move or not, and that decision impacted the course of the rest of your race. I feel the more you race, the more you train, and the more you analyze what is happening, the more often you will end not only putting yourself into a position where these situation arise, but you will end up making the right call when these split second decisions present themselves and you are forced to react.
If you have never been in this situation before, here are your next steps of action:
1. Improve your training and make the goal of your next race to be NEAR the front of the race. You will be amazed how many things happen up there.
2. As your fitness improves, make your next goal to either react to a move that someone else makes, or actually initiate one yourself. It may work, it may not. If it works make sure you store everything that happened in your mental "race library." If it didn't, analyze why it didn't and again store this in your mental "race library."
Eventually you will not only be putting yourself in the right spots, but you'll have the race knowledge to react accordingly and increase your chance of success.
Wanting a coach to help you take your training, racing, fueling, and race strategy to a new level? Contact us today: info@buildpeakcompete.com
Leave Us A Comment!
comments