Go Short and Prosper – The Untold Benefits of Short Course Triathlon
|
Now I've already jotted down some of my feelings about short course triathlon here, so I will try not to get too repetitive. The only thing I will repeat is the fact that I don't have a grudge against Ironman brand, WTC, or folks who race mostly long course events. I love coaching people no matter the event they choose for themselves. The truth is, your goals have to excite you enough to get you out of bed at the crack of dawn to knock out a training session. And if you aren't having fun, you might as well find another activity. I'm merely making a case for the value of doing short course events.
I've been coaching triathlon full time for 9 years. Some will argue I wasn't even around during the "hay day" of short course triathlon in America. But I've seen events with 1700 participants now struggle to get 500. And we've all seen some iconic events just up and disappear. It's really sad not only for the race directors who put hours into organizing and promoting an event, but the growth of the sport in general.
The truth is, without short course events (we are talking sprint and olympic distance) our sport will continue to dwindle like…….insert funny analogy. Globo Gym hasn't really figured this out yet, but without shorter events, new people won't be coming into the sport. And without new people, their events will eventually suffer as the present crowd has one too many Ironman hangovers and decides to put down the bottle.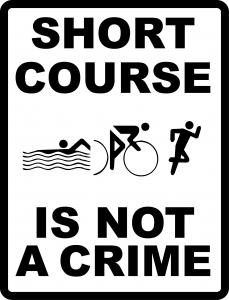 Hopefully you aren't thinking it's the triathlon apocalypse. We've already weathered the storm. USAT is doing everything in their power to keep races on the calendar, as well as add new ones. With the growing popularity of other "2 sport" events like AquaBike and SwimRun, multisport isn't going anywhere. The folks that do the most tracking of the industry as a whole, Triathlon Business International, say there is a lot of evidence of an upswing. We'd have to concur with that because we've not only seen an increase in our coaching numbers, but new short course events are popping up in our area, affectionately known as one of the "least healthy cities in America" (we clearly disagree).
Even if you have a long course event on your schedule, there are a lot of benefits to racing short course events. But, if you commit to focusing on short course events, there are a host of direct and indirect benefits to you as a multisport athlete, and some awesome benefits to the sport(s) we love. They are listed below in no particular order:
You get to spend less time training, and you will still be fit as a fiddle. This also means there is less risk for burnout. That includes your family burning out on your training schedule. Happy spouse, keep your house…I think that's how it goes.
You can race as much as you want, and racing is a ton of fun.
Short course races are much easier to integrate with family activities because you aren't on edge for the week before and crushed for a week after.
You don't have to pick an A race. Yeah, I said it. In my book, A is for anxiety. You never know what the day will bring so train to peak fitness and then let the PR performances happen!
You get to be a part of the growth of small businesses and your local/regional racing scene. Without the two, there is no multisport.
You can try new things. Here I go again contradicting every coach ever. I'm not saying change everything up on race day, but if you are racing multiple short course races in a season, you can stand to make tweaks to your normal race plan. Push one leg as hard as possible and see what happens! You might surprise yourself.
You get to practice going fast! Push up the ceiling and it will transfer to any distance.
You save a S#!t ton of money. Do the math. You can race 5-10 short course races for the price of a branded long course event.
Nutrition and hydration are less of an issue. Granted you can still dehydrate or bonk during a short course event, but there is a lot more room for error as compared to an event where you are in motion for 2-10x longer.
Did I mention they are a ton of fun!
I rest my case. If you are looking for short course options in your area, you can check out USA Triathlon's race calendar, or my favorite race finder, TriFind.com.
If you are in the midsouth, I recommend checking out Start2Finish Events or PR Event Management. They both run some great races.
My only request: Take a minute to invite a friend to train and complete their first multisport event. It could be a triathlon, duathlon, cross tri, aquabike, swimrun, or any other multisport discipline. Simply getting someone involved in a relay is an awesome way to get people to try the full deal down the road. Help them find the right one. Help them secure the needed equipment. Train with them, and get out there and race with them. Most people don't get into something totally new without the coaxing, taunting, shaming, or a friendly invite of someone they trust.
To help in your recruiting, here is a free program that can have most people ready for their first sprint tri in just 8 weeks. Just use the code 8WSPRINT to get it for free.
See you out there!
Leave Us A Comment!
comments