Gear Review: CW-X Stabilyx Running Tights
|
Getting in the thick of the Holiday season, everyone is wondering what to get that endurance junkie that has everything. I know. It seems impossible. We usually end up buying anything that we want anyways, which makes gift giving a little difficult. And usually buying anything else we want would involve a second mortgage or selling your second born child, and that's never a good idea.
As athletes, most endurance folk look for anything that might give them a competitive edge. As a coach, I obviously put the emphasis on proper training and making sure the athlete is technically sound. Don't get me wrong, I am obsessed with love new gadgets and products, and that's why I was more than psyched when I had the opportunity to try out some of the more technologically advanced tights on the market (thanks to Andy at CW-X). Like all other products, I approached with caution when it came to believing their claims or falling into their cleaver marketing jargon although I did like the idea and science behind their design.
First Impression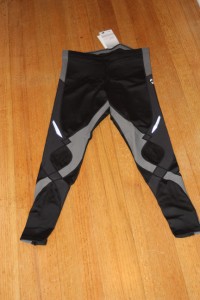 When I got the Stabilyx tights they looked like most other tights on the market with one big exception, their trademark Support Web™. So I guess that means they don't look like other tights on the market. I digress. So the Support Web™ is layered throughout the tights and is suppose to offer extra stability and support to the most impacted muscles and joints during running. This specific model is advertised to offer the most support to the core and knee joints. When you touch the fabric on the tights you will notice there are different elasticities throughout. Some much stiffer, and some very elastic (just plain lycra). If you have been watching sports these days you will notice this resembles kinesiology tape.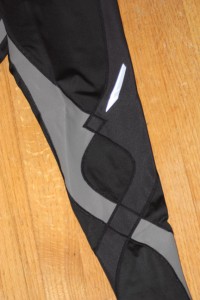 My biggest problem with tights in the past has been sizing. I don't have the body type of the average runner or endurance athlete. More like a football player, turned triathlete, pretending to be a runner. So needless to say my legs are bigger than the average Joe. Personally this has posed a problem over long distances because bigger muscles obviously are a bit harder to carry, but the big problem is that larger muscles incur much more vibration from ground impact. This increased vibration causes micro tears in the muscles which can lead to premature muscle fatigue. Anyways, when they asked my size I went by their sizing chart and it was spot on.
Testing
The first outing I did in the Stabilyx was a short 4 miler during our weekly group run. It was 32 degrees outside and I was amazingly comfortable in the tights. As a coach I consider myself very kinesthetically aware of my body. Almost as though I invented RPE. Just kidding. Anyways, one thing I noticed on this run was that I felt as though I was already warmed up even during the first part of the run. I never felt the usual tightness in my calves that I normally do when I forgo my normal active dynamic warm up routine. The rest of the run went as normal. The tights performed to my expectations but I was not completely sold on their performance enhancing abilities. What can we really tell from a 30 minute run anyways right (trying to add in a sarcastic inflection but it's not really working for me)? So, I decided I would put them to the test later in the week.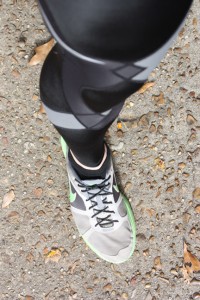 A couple days later I was eager to run the new sections of the Wolf River Greenline so I set out on a 2 hour jaunt with one of our clients who is in the midst of training for a half iron distance race in January (in Israel, don't freak out). I wanted to see how his mechanics were holding up towards the end of a long run, but I was also curious as to how I would hold up since I had not run more than an hour and a half at one time over the past 2 months. So we set out and I got the same feeling of being warmed up already. As we pushed on I continued to feel pretty good. Being a strict midsole runner, and a bigger person, I usually get a little calf and quad fatigue around an hour and fifteen minutes into a run but the hour mark flew by without any issues. I was surprised to say the least. As the hour and a half mark passed I was sure I was going to start to feel some fatigue..simply because I passed my most recent long run time…but it never came. An hour and 45 passed, and I actually felt pretty fresh. As we approached the 2 hour mark, I was pretty pleased that I felt like I could keep going for a while longer, and I only had some fatigue in my calves. My normal quad and knee soreness was absent. Intriguing…
Conclusion

I was convinced that I was at least going to suffer from DOMS (Delayed Onset of Muscle Soreness) which is normally caused by muscle breakdown during exercise. But, again to my amazement, I had zero soreness. Not the next day, or the next day. I did not even wear the tights for recovery purposes after the fact which is also a possibility for the Stabilyx. Needless to say, the CW-X Stabilyx get my full seal of approval. Of all the posted benefits, the biggest benefit for myself during exercise is the decrease in muscle vibration which, in turn, reduces muscle fatigue. Although I can only speak for myself, I can see how the Stabilyx can be great for those runners with questionable mechanics and strength as a limiter. Although I am a purist and don't think anything should do the job that our muscles and ligaments are meant to do, the added stability from the Support Web™ can help reduce the risk of injury, but don't replace doing the necessary training to become a strong and balanced runner. But lets face it, the less time it takes to recover from a workout, the more quality workouts we are able to get in, the greater the peak in performance we can create.
About CW-X
CW-X makes a number of different styles of high end technologically advanced tights, shorts, shirts, socks, and other compression and conditioning gear. The Stabiliyx retail for around $100 but they make less expensive models as well. In the Memphis area you can only find the CW-X Conditioning Wear at Breakaway Running.
If you have any questions about CW-X products or would like us to review a different product, please feel free to contact us.
Leave Us A Comment!
comments