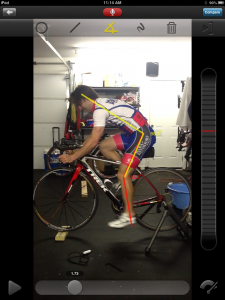 There's a good chance you happened upon this page because you fall into one ore more of the following categories:
You are suffering from a bike related injury or pain that you want fixed.
You want to make sure you are maximizing speed and power.
You feel fine on the bike, but want the confidence in knowing you're in your ideal riding position.
Well, the good news is we've got you covered and you're not alone.
Fact: The single biggest improvement you can make on speed, performance, and comfort is NOT your tires, your wheels, your helmet, or your kit.
It's your bike fit.
You can have the fastest bike in the world, but if you're sitting up like a sail, you're LOSING a whole lot of potential speed.
On the other side of the coin, if you're so slammed by trying to be "aero," you may be LOSING a lot of power, oxygen, and again, potential speed.
Or you might be too far forward, or too far backward. Each impacts how your body fires those awesome muscles of yours.
Comfort issues?
That's a huge indication that you need some tweaks to that steed of yours.
Saying to yourself, "I'm new to this and not fast enough for a bike fit."
Nonsense! Everyone deserves to be comfortable on their bike. And you deserve to maximize that power your working to improve.
Start off with a PROPER fit and make sure you're getting everything out of your body that you can.
In our expert opinion, everyone needs to be fit in a "dynamic" manner, with your goals, flexibility, and strength/weaknesses taken into account.
We'll get to "what" a dynamic bike fit is here in a second, but we wanted to share what just a few of our many customers have had to say. We're just like you, we always read the reviews before buying.
-------
"I'd like to encourage anyone looking to alleviate knee pain and / or looking to increase power and efficiency on the bike to spend some time with Dale for a fitting.  His general knowledge of kinesiology coupled with some pretty snazzy software / video analysis and his understanding of what type of athlete I am resulted in huge improvements for me...in one day.  Specifically, I saw a 20 watt improvement in a 20 minute FTP test and a 35 watt improvement in a 5 minute all out effort.  For someone that usually sees very incremental improvement over the months, these numbers represent a substantial jump for me.  I should mention that I went to see Dale because I've been suffering from knee pain in both knees, especially during harder efforts.  All I really wanted was to alleviate the pain and I got that, but I also got a nice - and unexpected - boost in power, something every cyclist wants.  The guy knows what he's doing and I encourage anyone I don't race against to go see him!" - Richard Patterson
-------
"Just to refresh your memory, I ride for Los Locos and you recently fit me to my Foundry Cx bike. Just wanted email you and thank you once again for an exceptional job. Hart, David Collins and myself just recently finished a gravel/road ride UP Tennessee that started from MS state line and ended at TN/Kentucky state line. Ended up being 205 miles. Ride was amazing and the weather was terrible. I am totally convinced that the bike fit played the most crucial role in not only finishing the ride, but riding strong for its entirety. Not once did my legs fade or a saddle sore emerge. Aside from the bike fit itself, but the tips in pedaling technique, stretching and overall body strengthening has made me the strongest I've felt in a while. I have shared my thoughts with anyone who has asked about the ride and I wanted to share them with you personally. You have a customer for life and I appreciate your dedication to your craft." - Bobby Weakley
-------
"Bike fits great and I'm riding faster than ever." - Jason Mayo
-------
So what is a "Dynamic Bike Fit"?
You bring your bike, your gear, and get ready to get your sweat on. That's right, these bike fits aren't a walk in the park.
Upon arrival, your coach and bike fitting expert will greet you. You'll chit chat about races, training, and all those goals you're going to smash this year.
This whole time your bike fitting expert will be processing this information and begin painting the picture for what your ideal fit should be. Comfort vs speed. Aggressive vs casual. Aero or non-aero.
This initial conversation will then move towards your first "test." Don't worry, this doesn't hurt and you don't need to study for it. In fact, this is where you get to show off your flexibility, limb length, and natural biomechanics. This is where your coach's mindset shifts from "ideal bike fit" to "ideal for you."
After you've shown off your superior athletic genetics during this off-the-bike assessment, it's time to let the sweat roll.
Why do I have to break a sweat!? Well...
We need you to simulate a variety of efforts on the bike so we can check your fit and body angles over that broad range of intensities. A lot can change when you are putting out 1.21 gigawatts.
You may be one of those people who look and feel just fine in cruise mode, but when the hammer drops, your body position and alignment goes out of whack.
In order to capture all of this power you're laying down, the video camera will be rolling. Your bike fitting expert will use this awesome footage to measure your body angles, check joint alignments, and make sure your muscles are firing at the right time.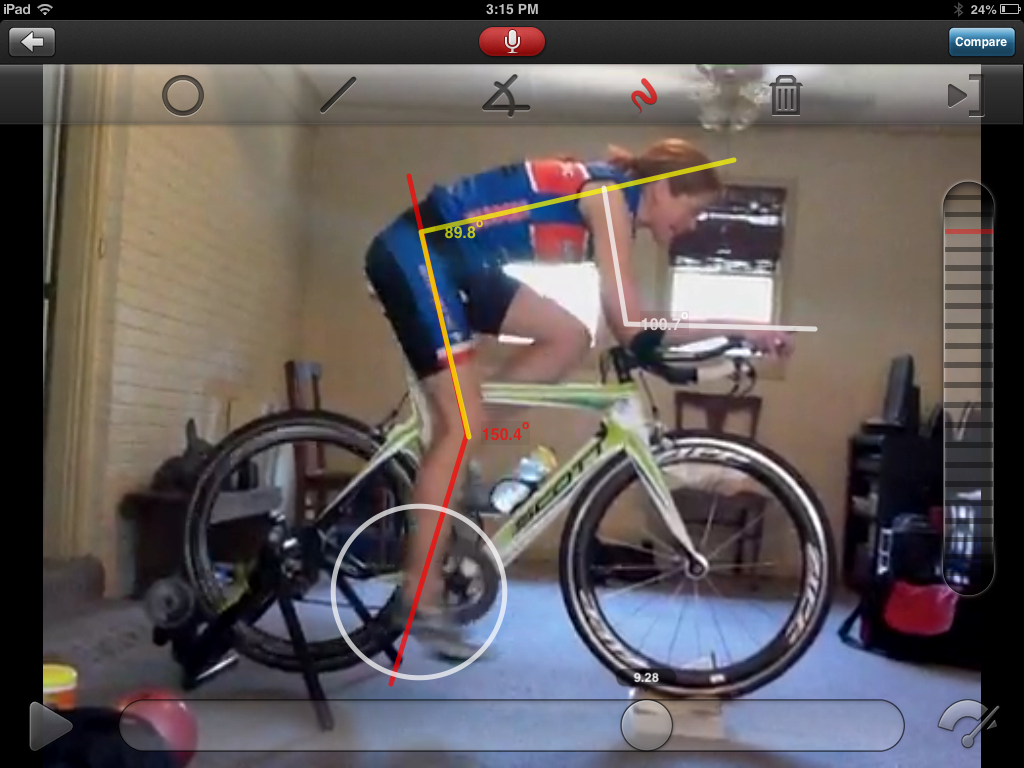 These measurements, combined with your goals, and your natural biomechanics all come together and THEN adjustments can be made. You'll be amazed at what 1 mm can do.
Bring a water bottle as well - you'll want to be sipping on it while we make the necessary adjustments to your bike. This is your recovery time.
After that short breather, it's now time to check the changes. That's right, more sweating and plenty of dialogue between you and the bike fit guru to determine if further changes need to be made. Video will still be rolling and angles re-checked.
Once all the major adjustments have been made, and you are happy with the fit...you'll be free to leave and drop the hammer on your riding buddies. Fear not, if it doesn't feel right after a few rides, we will fix it for free for the next 30 days (some exceptions here).
But wait! THERE'S MORE! While your fit specialists is going through the fit process, if there is a specific limiter in your strength or flexibility, they will show you a few exercises or stretches to help correct your imbalance.
You want MORE? Wow. OK. How about our fit specialists are all experts on different riding positions, pedal stroke mechanics, and muscle activation during an efficient pedal stroke. So if there is an obvious issue with any of the above, your fitter will give you specific cues and pointers on how to fix these problems.
So how long does this process take?
Typically you'll be in and out in about 90 minutes unless you're in need of a bunch of adjustments. Or, your bike contains rusted out bolts that make adjustments tricky. Or you really like to chat.
So how do you book? Follow THIS LINK or give us a call if you don't see any available times that work for you - (901) 308-7272
Want to know what's even better?
The fit is not final when you go out the door. We encourage all of our athletes to get in a few rides, including their long ride, with the new fit. If for any reason you are not comfortable in the first 30 days, we will rework the fit for free.*
*Pending you've made no adjustments or changes to the equipment on the bike. This would require a new fitting session.
Pricing
Road Bike - $195
Tri or TT Bike - $215
Coached athletes receive a $30 discount
Multiple Bikes - Full price for the first bike, $100 per hour (billed in 20 min increments) for each additional bike.