Around 35 Marx-Bensdorf and BPC Cycling team members headed south to Oxford, MS, for the annual team camp.
We always look for 4 main goals with team camp:
Log big hours in the saddle
Work on skills and bike handling
Get to know your fellow team members better off the bike
Break into teams and discuss goals, expectations, and key team races
Besides getting rained out on Sunday (35 degrees, rain, and Super Bowl festivities to get to), everything else was a success.
Friday saw around 30 people get off work early to log some afternoon miles. Distance ranged from 32 to 55 miles for most and included a nice race simulation effort out to Sardis lake. Here's Marx-Bensdorf Cyclist, Phil Daniele, having a good time at the parking lot regroup. Always great to ride in only bibs and jersey on January 31st.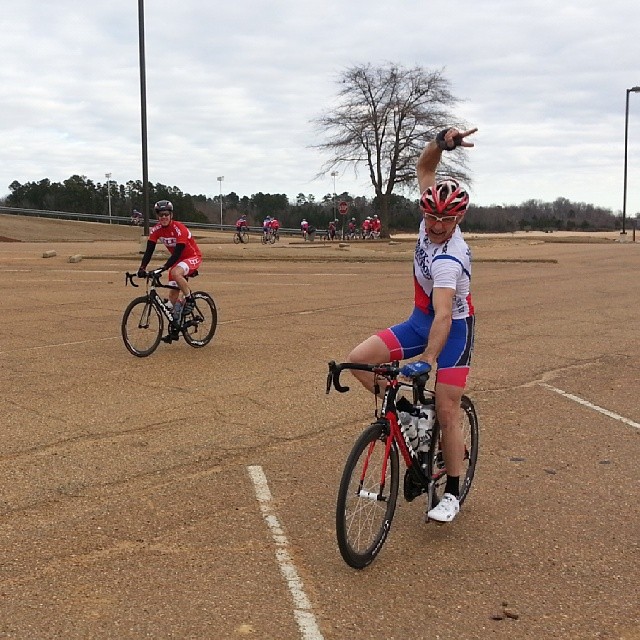 Everyone kept things more relaxed on the way back to the hotels with a 106 mile ride looming the next day. Post ride recovery of some delicious Mexican food and a few cerveza's were a great way to cap off Day 1.
Saturday's plans were to roll a "shorter" 58 mile loop, and follow that up with another 48 to 50 miles for those looking to put some good volume into the legs. We could not have asked for better weather. Most people rolled out with nothing more than their team kit and arm warmers. Most had dropped the arm warmers by the 1 hour mark.
Here's a look at most of the group rolling out for the Saturday ride.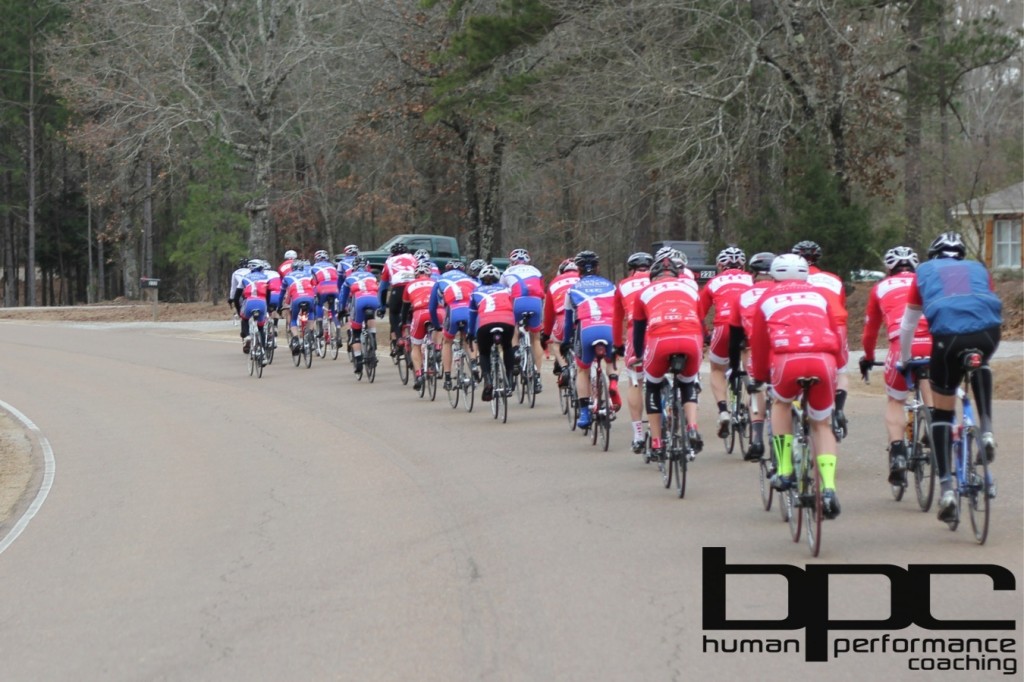 The terrain down in Oxford was great. Plenty of short, punch climbs scattered with some longer grinders. We had tailwinds that made riding at 32 mph seem effortless, crosswinds to work on echelons, and headwinds that turned 15 mph into a redline effort. Below is a peek at "Misery Rd." which was about as smooth as a cheese grater and contained some big crosswinds as you can see from the different groups forming.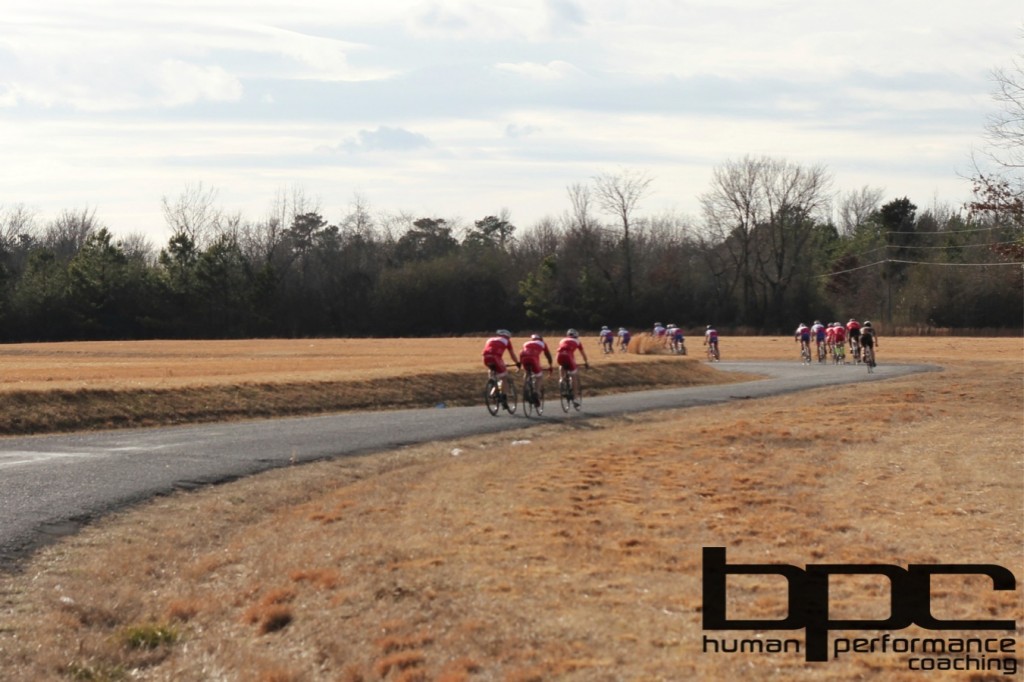 It was great to see a group of nearly 20 cyclists, ranging from Cat 1 to Cat 5, knocking out the full 106 miles on Saturday with an avg speed over 20 mph. Laying a great foundation for the season for sure.
Sunday, the teams all split up and discussed goals for the year. Always nice to get everyone motivated, focused, and on the same page with the first race of the year only two weeks away. Unfortunately, the weather went from being perfect, to not so perfect, and we played things safe and didn't risk hypothermia in the 38 degree rain. That said, plenty of people got their saddle time in on the trainers upon arriving back home.
Looking forward to a great season! If you'd like to see all the pictures, head on over to our Facebook page – and give us a "Like" while you're there!
Interested in setting up a team camp, with follow cars, and race specific skills work? BPC can handle that for you and your team. Feel free to email us at info@buildpeakcompete.com and we can discuss the details and see if it's right for your squad.
Leave Us A Comment!
comments