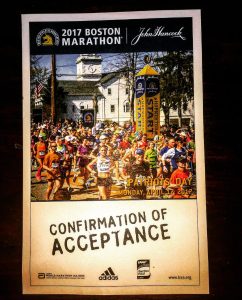 Take your Boston prep to the next level!
Each Saturday from January 7th until the Boston Marathon, a group of dedicated runners will be taking on challenging but focused training sessions together.
This group is for anyone who has qualified for Boston, or is close to qualifying and needs that extra push to make the qualifying time.
Where: The group will meet each week at Breakaway Running in Midtown.
Each session will be led by coach Chris Winter (who is Boston bound) and will start with an Active Dynamic Warm Up as well as some technique drills. From that point, the session focus will be broken down as follows:
4 of the 14 sessions will be hill specific sessions.
3 of the 14 sessions consist of speed and speed endurance intervals.
5 of the 14 session will be progressive pace runs.
2 of the 14 sessions are Long Runs of 20 and 22 miles.
1 prerace meeting in Boston the weekend before the race
All sessions will finish with some core and stability strength (Except 20/22 milers)
Total session time will be between 2-3 hours
Price: Only $300 for all 15 sessions