A Racer's Guide to Rouge-Roubaix
|
A Racer's Guide to Rouge-Roubaix
Rouge Roubaix, an epic early season race modeled after the early season Spring Classic Paris-Roubaix, is entering its 14th running this year. Rouge is a great early season test not only of current physical condition, but also mental toughness. With a solid mix of rollers, gravel sections complete with solid climbs, a finishing road so rough you'll wish you were back on the gravel, and 100+ miles of length, this is the toughest race 95% of the peloton will complete all year. A combination of strength, proper nutrition, positioning, and a little bit of luck typically determines the winner. Lacking any one of these at crucial times of the race will likely end any chances of overall victory.
Prelude: If you want to win, you better be in the front 10 riders entering every section of gravel. Failure to do so greatly decreases your chance at victory. Although the race may not be won on any one gravel section, the race can definitely be lost. Be in proper position at these points if you want a chance at winning. For more information on maps and mileages, visit this link from the Rouge Roubaix website – Maps

The race begins and ends in a different location – separated by a few miles. Neutral roll-out starts the race until the left turn onto Hwy 66. The first 8.8 miles are relatively tame and on a nice open road. There is a possibility for a breakaway to get away on this section since most racers know this is too far to go to the finish for a small breakaway to succeed. If this group is well represented there is always the chance it stays away.
The right turn takes you on a narrow and winding 2 lane road where the yellow line rule is very tough to enforce. This makes holding your position near the front difficult. Racers lack of regard for the rule also makes this portion of the race very dangerous when there are oncoming cars. A breakaway is likely to go at this point since visibility is limited and so is the ability for riders to move up and chase. Out of sight – out of mind. With 80+ miles to the finish, the odds are stacked against any small breakaway at this point. This road dumps back out on to 66 and continues on to 969 at the 22.5 mile mark. If you are in the back of the pack at this point you better move up. This is also a good time to get any nutrition into the system you are going to need, because the next 20-25 minutes drinking and eating is going to be nearly impossible.
Mile 25.4 is where the "fun" and the race truly begins. Racers will want to be in the top 10 riders entering this section! Racers make a fast right onto the first narrow gravel section. Splits ALWAYS happen here. If the gravel is not deep, moving up and around may be possible. If it is deep, racers will typically get into two lines (the grooves made by vehicle travel) and moving up will be very difficult. Being in the back end of a split can END YOUR RACE at mile 25. Although there is some undulation and elevation change on this first section – this is a big power section. Be ready to go into the red and stay there. Losing a wheel can mean losing the race and spending 75 miles doing a whole lot of work in a small group with no chance at glory.
At mile 33.2 (so just under 8 miles) the gravel ends and breathing normal generally resumes. There is going to be neutral water at this point, meaning anyone can grab it if they need it. The lead group may or may not continue to push depending on the size and representation of riders. 2010 saw a hard chasing pack of around 40 riders regaining contact with the front group of 30 riders who had eased off the pace. The other 50+ riders who had been dropped on the gravel never saw the lead group again.
For the next 11 miles the race is on nice rolling hills. None of these are real leg burners. Mile 44 is the first feed zone and should fall about 2 hours into the race. Be sure to take on food and drink if necessary. Nutrition is VERY important in a race of this length. Failing to stay on top of nutrition could be the difference in finishing strong and not finishing at all.
Race continues on similar rolling hills for the next 19 miles.
At mile 63.5 the second gravel section begins. Racers make a hard left off of HWY 24 onto a very poor road. Racers NEED in the front 10 people going into this section. This road is narrow, littered with dirt, rocks, and plenty of potholes. A very short distance after taking this left, riders will veer right and head over a sketchy "wooden bridge." The bridge consists of 10 inch or so wide wooden boards run length wise over a section of gravel. These boards are placed three wide with a couple foot gap between the three board sections. There is just enough space between the individual boards for a road bike tire to fall down into. Personal recommendation is to ride in the gravel to the right or left of these running boards. Pre-riding this section (and all other gravel sections for that matter) is STRONGLY advised.
Photo by Malcolm Schuler – MPS7500@aol.com
The race to be at the front going into the long dirt climb begins. This climb is around a 6-11% grade. This is a small ring climb that is .75 miles in length (avg 7.2%). In 2010 there was a sandy patch about 1/3rd of the way up the climb that only a select few were able to ride through. Most had to dismount and remount through this 15 meter section. Once to the top of the hill, there are some dirt rollers that continue for another few miles. Total gravel section is 3.4 miles. Group is usually blown apart with small packs forming and working together to try and regroup with the front of the race. Exiting this section there is a neutral feed as well as a sag stop with food. If you are planning on winning – don't stop for food. Right after the feed and before making a right back onto 969 (heading south now) racers will ride over a cattle guard. Do not be nervous about these, just keep the wheels pointing forward and everything should be fine.
Racers that have lost contact with the front will be in full chase mode on HWY 969. At mile 74.1, racers will turn right onto HWY 66 and will continue for 4.9 miles until the 3rd gravel section begins. This section is similar to the previous, rolling hills on a wide road.
At mile 75 riders take a left and enter the 3rd gravel section. There is very little time or space to move up once this left turn is made. Race speed usually picks up prior to the turn as well as racers battle to be at the front. There is a steep .25 mile hill that hits grades in the 15% plus range. See pic below –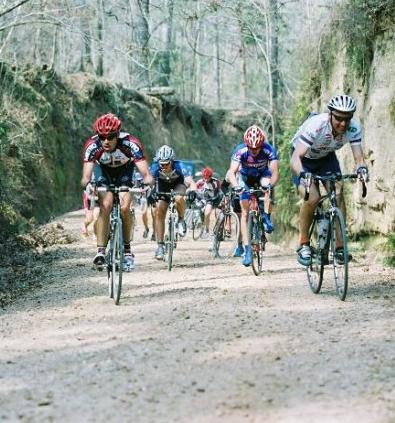 Photo by Malcolm Schuler – MPS7500@aol.com
Lots of racers will be forced to dismount their bike and run up the hill – take a look in the background above. If the racer in front of you does not successfully ride up the hill, there is no way around and you will be forced to hop off and run the hill. The further back you are in the pack at the base of the climb, the greater your chance of having to run the hill. The winner of the race typically comes from the lead group that is able to ride the hill and not dismount. If you want to win, be in the front 10 hitting this hill. Even if you have to run it, you will not be stuck behind traffic.
This total gravel section is the most challenging, with short climbs and descents. Trying to chase down the front is nearly impossible if you have to fight through a big group of struggling riders. Road is narrow and a more technical that the previous two sections. There is a third and final neutral feed at the end of this gravel section.
At mile 85 the gravel ends and the horrible "paved" road begins. Racers will wish they were back on gravel. Race is typically blown apart by this point, with most racers realizing the race for the win is over and finishing the race becomes the new goal. This road is mixed with rollers that sting the legs after 85 miles of hard riding. Those with a chance of winning the race still likely number less than 20 racers – probably fewer.
The most challenging portion of the final 16 miles is the beginning. Nearing the end the road becomes better and the terrain a little less rolling. Racers will take a left once they enter town, and the sprint for the finish begins (if there is actually a group left to sprint). There is a short little kicker before the finish that will punish the racer that starts their sprint too early. Hold back longer than you would think if you are in this position. Tired legs combined with that little hill likely means the person starting the sprint is not going to win the sprint.
At mile 101.4 the pain will end and the epic stories begin!
Leave Us A Comment!
comments